2018 marks the 70th anniversary of the Italian film Bicycle Thieves. In the decades since its release it has influenced a wide range of younger movie makers. When it was first screened in 1948 it was met with a level of hostility amongst audiences in its native country.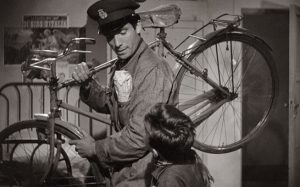 Despite this its reputation has grown and Bicycle Thieves now stands as one of the most important pieces of film in the history of cinema. It tells the story of a young man who is struggling to raise a family. In order to do this, he needs a new job.
This job requires that he own his own bicycle. Unfortunately, he does not have the money to do so. His wife soon takes initiative and sells a number of their possessions to raise the adequate funds. Thanks to this the man now has his own bike and is hired.
On his first day someone steals the bike and the rest of the film centres on the search for it. The man takes his young son along to aid in this search. While looking for the bicycle the relationship between father and son is explored in a number of ways.
The film was directed by Vittorio De Sica who has gone on to be recognized as one of the most important film makers not just in Italian cinema, but the entire world. It stands as one of the best fictional films ever made about cycling. The bike is used as a metaphor throughout ,however, what exactly it symbolizes is up for debate.
Some critics believe that the bicycle symbolises hope and the possibility of the main character progressing in life. The bike model is a Fides which is Italian for the word "faith". This gives credence to the interpretation that the bicycle represents hope for the characters.