Recently there has been a new trend in nostalgia towards the children's films of the 1980's. Interestingly this new fad has focused on how these movies have represented cycling. The 1980's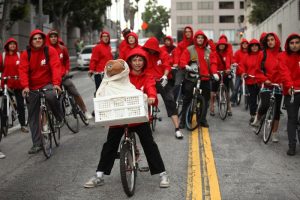 often showed young people bonding with each other in a group. This is often shown by having them riding bicycles together.
By far the most famous example of this is the science fiction E.T. the Extra-Terrestrial. Directed by Steven Spielberg, the 1982 classic follows a group of children as they try to look after an alien which they nickname E.T. Eventually government agents find out and try to capture him.
In order to keep E.T. safe the boys end up having to ride out on their bikes. The scene where they are chased through the streets while cycling remains one of the famous moments in the cinema of the 1980's. It has become an iconic and often imitated sequence.
Steven Spielberg also helped to create yet another classic of 1980's cinema. In 1985 The Goonies was released. It follows a group of children as they go out searching for pirate treasure. At the start of the film the kids head out on their adventure on bicycles.
Eventually an older brother of one of the boys pursues them in order to make sure they are safe. He ends up having to use a little girl's bike as his own bicycle has flat tires. While out looking for them he ends up crashing the bike in one of the films most exciting sequences.
These are just two examples of the importance that cycling had to 1980's cinema. It was often used to signify the innocence of childhood. In an ironic twist the use of bicycles is nostalgic in itself as it would often be a way of remembering the 1950's when life was simpler for the now adult filmmakers.