There are plenty of fantastic cycle paths that are well worth riding through. The best one will depend on the individual taste of the cyclist. However there are some that have been given wide acclaim and are considered by many to be superior.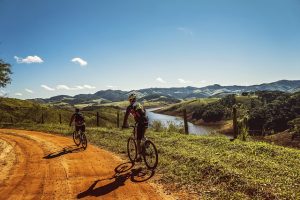 The Alps 2 Ocean trail is the one to go with for cyclists who enjoy endurance tests. This trail is the longest you will find in the country. It generally takes six days to complete so a fair amount of commitment is required. It is 300km in length and during the ride cyclists will get to view some of the most beautiful landscapes within New Zealand. It starts in Lake Pukaki and ends at the port in Oamaru where those who complete it will be rewarded with views of the Pacific Ocean.
The Rimutaka Cycle Trail is a great choice for those who decide to stay in the nation's capital. It starts just outside Wellington and takes the rider out into the open countryside. While there they will get to see old rail lines, rivers and the coast. It is 115km long and passes through the vineyards of Wairarapa. It is recommended that cyclists do not taste the wine there if they wish to continue riding that day.
If the cyclist wants to see some truly mesmerising northern scenery then Coromandel's Hauraki Rail Trail is one of the best choices to go with. It is shorter than others at just 69km but makes up for it with a variety of wildlife. The cycle path will take visitors through the old tunnels left over from defunct railway lines. Once they have gotten through these they will be met by waterfalls that may get the cyclist wet if they are not careful. After this the rider will have the opportunity to travel on an old train.