Cycling is enjoyed by many different types of people all over the world. It is one of the most popular exercises out there. Despite this it has a clear link to the genre of horror films.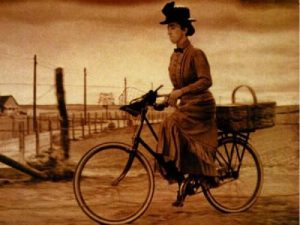 The Shining is often considered to be the scariest ever made. It frequently tops lists of the best horror films. Interestingly the scene that people find most memorable is one that involves the young lead character riding on a tricycle through an empty hotel.
The boy is in the centre of the screen for much of this sequence. The camera follows him as he rides through the hallways of the hotel before finally coming face to face with the ghosts of two twin girls. Thirty years later it stands as one of the most unnerving sequences in horror cinema.
Those who watched it when they were young stated that the Shining made them think twice about getting back on a bike. This is an unfortunate negative effect of the film. The horror of the scene does not come from the act of cycling itself but the isolated setting of the hotel.
There have been other films where cycling is shown to be more of a malevolent activity. The Wizard of Oz may not seem like a horror film on the surface. However the Wicked Witch of the West has become known as one of the scariest characters ever put on screen. Though the entire film is more of a fantasy genre piece it certainly contains horror elements.
At the start of the movie the villainous Miss Gulch is shown riding on a bicycle on her way to take away Dorothy's dog. In the tornado scene Miss Gulch's bicycle transforms into a broomstick. This scene is often cited as one of the scariest in children's films.