New Zealand is, indeed, one of the most picturesque countries in the entire world. The landscapes are vast, beautiful, and full of a variety of wildlife. Some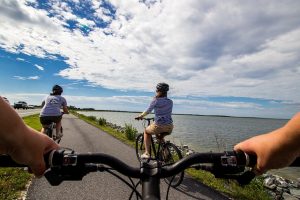 people choose to explore these areas by car. However, this restricts them to main roads and means they can not have as much of an interactive experience, as they would get by cycling.
Other people enjoy seeing these landscapes by air. Getting on a tourist helicopter, or plane will certainly give visitors a sense of the majesty of New Zealand. However, they will also be separated from it, by sheer distance. Using a bicycle will mean that people can have a far more intimate experience when exploring the country.
New Zealand has plenty of establishments equipped to provide bike rentals, for people of all ages, and experience. They also tend to have a range of different bikes, some cheap, and others more expensive. That way, a visitor can rent one that suits their budget. This also saves tourists the trouble of bringing their own bike or buying one outright.
The country was built for travelling on a bicycle. There are a plethora of trails to ride through. They often take the cyclist through areas of historical interest, and outstanding beauty. A large number of these are long-distance trails, although there are some shorter ones.
There are a few things to keep in mind, before going on one of these cycling adventures. It is always important to be prepared. Cyclists should know the length of the trail, and the types of clothing and equipment that they will need. Being aware of the weather will prevent upset later. Keeping hydrated is essential. It is also worth keeping a puncture repair, and first aid, kit on hand, just in case there are any problems during the ride through a trail.