Riding on a bicycle has been an extraordinarily popular past time for over a century. Therefore it is no wonder that it has been the theme of many different art forms. Music is no exception to this rule. Over the past few decades there have been numerous songs written about cycling.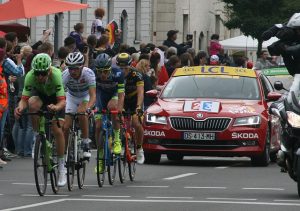 Bicycle Race by the British rock band Queen stands out as one of the most memorable examples. The single was released as part of their 1978 album Jazz. The music video for the track featured some risque scenes of nude cycling and was therefore banned in a number of countries.
The song was inspired by the Tour de France which was taking place at the same time as the band recording the album. It is well known for its catchy chorus and fun melody. To this day it stands as one of the most celebrated Queen tracks ever recorded. It is frequently featured on their best of albums. Despite this it is not normally performed live. This is out of respect for the original lead singer of Queen, Freddie Mercury who died in 1991.
The Smiths were another UK band that rose to fame in the 1980's. Their music is known for often being dark and sombre. Despite this they too recorded a track that focused on the joy of cycling. Stop Me If You Think You've Heard This One Before was released in 1987. The music video features a number of strange characters all riding on bicycles.
Across the pond the California based rock band Red Hot Chili Peppers have also written music about cycling. Their song Bicycle Song is a bonus track that some fans of the band may not even be aware of. It is a love song that uses the act of cycling as a metaphor throughout.