In recent pieces of popular culture there have been several examples of cycling being linked to "nerd" characters. Often these characters choose it as their preferred mode of transport. The implication in these cases is that they simply do not know how to drive.
It has taken a number of decades for "nerd culture" to come into the mainstream. Before the 1980's it was used as a disparaging term. The film Revenge Of The Nerds helped to change this. In more recent years there has been a trend of embracing this subculture of people. As such there have been several films made about them.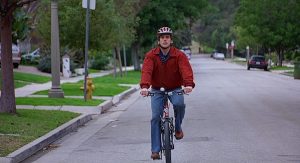 The 40 Year Old Virgin was a hit when it was released in 2005. In the film Steve Carrel plays a self proclaimed nerd. He spends much of his time cycling and this activity is the basis for several jokes throughout the course of the movie.
Napoleon Dynamite (2004) is also another nerd centred film that was so popular that it spawned a well received cartoon series. In both the movie and TV show the eponymous character travels through his rural town on a bicycle.
Dwight Schrute is one of the most popular nerd characters in recent years. He is part of the ensemble cast of the hit comedy series The Office. Dwight is often tormented by his coworker Jim and the pranks played on him usually serve as the comical opening to an episode.
In one memorable episode of season 6 Dwight leads his coworkers in a spin class. This is a form of exercise on static bikes which is made to mimic the conditions of riding through steep inclines. In this scene Dwight takes the activity too seriously and demands that each participant work much harder on their efforts if they want to "survive".