When people look back nostalgically to their childhoods they will often remember going out cycling with friends. The streaming service Netflix recognised this when it commissioned their series hit sci fi Stranger Things. The show takes place during the 1980's and heavily uses nostalgia throughout.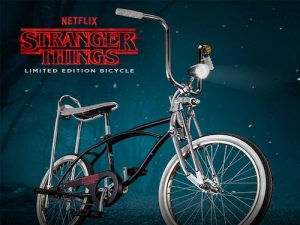 It follows a group of young friends as they encounter a psychic girl, dangerous government experiments and deadly aliens. In the very first episode their relationships with each other are established by having them cycle together.
One of the boy's bikes even becomes a clue when he goes missing. Eventually the sheriff's department finds his bicycle, and this leads them to believe that he was taken rather than ran away. Bikes are also used in practically every episode by the main characters as they delve further into the mystery. In one of the final episodes a bicycle chase serves as one of the most exciting scenes in the show.
In 2018 season 2 of Stranger Things was released on Netflix. Once again bicycles serve an important role. In order to publicise it they released a limited number of bikes based on the models in the show. In June of this year Schwinn announced that there would only be 500 of their Stranger Things Edition bikes in the world. This has made them a much sought-after item in the collector community.
In the second season the group of young protagonists are drawn into yet another mystery. Once again they hop on their bikes to try and get to the bottom of it. Their new bicycles have torches attached to the front to help them see better at night. These models are also featured in a prominent role on the posters that were released before season two aired. In 2019 season 3 is likely to once again show cycling extensively.