(Click on images)
---
17 July 2015
The Australian Federal Senate
has appointed a committee to inquire into Personal Choice and Community Impacts.  The Inquiry, instigated by Senator Leyonhjelm, is better known as the Nanny State Inquiry.  The committee is currently seeking submissions from the Australian community.Senator Leyonhjelm has singled out mandatory bicycle helmet laws as the foremost example of where the State exceeds its proper bounds by interfering in a matter that should be left to the individual.
ACT has a plan to double cycle use
ACT has a plan to double cycle use
ACT has a plan to double cycle use
---
17 July 2015
Senator Duncan Gay strikes again.  The cyclists' friend proposes that all cyclists in Australia should registered and obliged to carry identification!
---
10 April 2015
Cycling Injuries  This study was not  limited to head injuries, likely contributing to our result that helmet use was not associated with injury severity.  In one of the largest studies to examine helmets, their use was found to significantly reduce head injuries, but was not associated with serious injury mitigation across all body regions. In this context, it is important to recognise that cyclists may sustain injuries, including serious trauma, to any body part, including their thorax, abdomen, neck and extremities. A helmet can do nothing to prevent non-head injuries. (page 7)
---
17 March 2015
In 2005 Sweden introduced a helmet law for cycling children. Mandatory helmet laws have been controversial in that they seem to have a limited effect on the number of head injuries, if at all, but instead are correlated with a decrease in cycling numbers. Guest writer Erik Sandblom takes a look at what the effect in Sweden was of the legislation on helmet wearing for Sweden's young cyclists.
---
17 March 2015
TERMINATOR star Arnold Schwarzenegger has fallen in love with Melbourne and takes a bike to see the sights – helmetless…
Melbourne police officers pull up Arnold Schwarzenegger for riding a bike without a helmet
---
03 January 2015
Cyclists group wants mandatory helmets scrapped
A cycling lobby group is again pushing to have New Zealand's controversial bike helmet law scrapped, amid conflicting studies about the effectiveness of the 21-year-old law.
Cycling Health New Zealand spokesman Clint Trass says forcing people to wear helmets has drastically reduced the number of cyclists on roads, increasing the risk of being hit by vehicles for those who remain. Read 0n
---
18 December 2014
From February to July this year, Cyclists have been hit by fines totalling $398K for a range of offences, but mainly for riding a bike whilst not wearing a helmet.
Cycling infringements February to July 2014:
Not wearing a helmet – 5621
Helmet not securely fastened – 28
Failure to produce helmet for inspection – 28
Failure to produce helmet exemption – 2
No light on cycle – 806
No tail light – 630
No red reflector – 12
Towed by another vehicle – 1
Cycling on a motorway – 4
Cycling on a footpath or lawn garden – 521
Operating bike without brakes on both wheels – 29
Cyclist failed to ensure person carried on cycle trailer had helmet – 1
---
03 November 2014British Olympic cycling champion Chris Boardman  faces criticism after voicing his views on cycle  helmet use.
See also the interesting and heated debate following the Road CC article.
---
20 September 2014
In the period February to July 2014, police collected $398,000 in fines from cyclists, most of this was for the offence of not wearing a helmet.
---
20 August 2014
On 20 August, Clinton Trass addressed a letter to the Rt Hon John Key, the Prime Minister, on the topic of the compulsory cycle helmet law.
---
19 August 2014
See: The ACT Party has a plan to double cycle use…
ACT Party – Press Release/Statement
Headline: ACT has a plan to double cycle use
"The National party yesterday announced a $100 million cycle-way that just happens to go through the marginal seat of Hutt South" said ACT Leader Dr Jamie Whyte.
"The Greens want to spend many hundreds of millions on cycle-ways. ACT's contribution to this bidding war for the cyclist vote would double cycle use and cost nothing" said Dr Whyte.
"We need only abolish the law that makes wearing a cycle helmet compulsory. Since 1994, when Parliament established an instant fine of $150 for failing to wear a helmet, cycling has declined by over 50%. Overseas experience also indicates that laws making it compulsory to wear a helmet dramatically reduce cycling. This nanny state law does not even save lives" said Dr Whyte. "On the contrary, it costs lives. Before the legislation, few people died from cycling accidents and, of those who did, only 20% died from head injuries alone."
" Research reported in the New Zealand Medical Journal (see http://journal.nzma.org.nz/journal/125-1349/5046/) shows that, over a 10 year period, only 20 Aucklanders were killed in cycle accidents and only 4 might have been saved by wearing cycle helmets. This same New Zealand Medical Journal article concluded that life years gained from the health benefits of cycling outweighed life years lost in accidents by 20 times" said Dr Whyte.
"The diminished health resulting from the reduced cycling caused by compulsory helmet-wearing costs 53 premature deaths a year. ACT would simply abolish the $150 fines for not wearing a helmet. That would save $100 million on cycle-ways in marginal seats, double cycle use and save 53 lives a year"  said Dr Whyte
– See more at: http://livenews.co.nz/2014/08/19/act-has-a-plan-to-double-cycle-use/#sthash.j1I7IfZl.dpuf
"We need only abolish the law that makes wearing a cycle helmet compulsory"
---
The New Zealand Medical Journal
An evaluation by Colin F Clarke  the efficacy of the compulsory cycle helmet law in New Zealand, to which the Act party refers.
---
18 June 2014London-based brain surgeon Henry Marsh created international controversy recently when he suggested wearing helmets put cyclists at even greater risk on the roads due to cars giving them less space, and said countries where bike helmets were compulsory had no reduction in injuries.  This assertion is supported by research carried out by Dr Ian Walker of Bath University in the UK (See  below).
An Auckland neurosurgeon also comments that bicycle helmets are too flimsy to prevent serious brain injuries and that cyclists should be wary of depending on them for protection.  Concussion specialist Rosamund Hill says there is merit to the argument that helmets effectively make no difference to someone involved in a major cycling accident.
On 15 June 2014 the Sunday Star Times published an article dealing with the pros and cons of cycle helmet use.
---
12 June 2014
Whilst preparing the group's complaint to the Regulations Review Committee, member Clinton Trass addressed a query to the Mayor of London, a noted cycling advocate.  A reply from the city's Cycling Commissioner is appended:
Dear Mr Trass
Thank you for your email to the Mayor. He has asked me to reply. I am sorry for the delay in responding.
I am glad you agree with me that enforcing the mandatory wearing of cycle helmets is not the best approach to cycle safety.
My view is that if you want to wear a helmet that's fine, but if you don't that is also fine. My concern about helmets is that they reinforce the idea – which isn't actually true – that cycling is a highly dangerous pursuit suitable only for fit people in protective gear. It's actually fairly safe and has grown about 25 per cent safer in London over the last ten years.
There's surprisingly little scientific evidence (I know of no large-scale empirical study for instance, though I stand to be corrected) that helmets make you safer. Common sense would tell you that they must do – but I can think of some reasons why they might not, such the fact that they reduce a rider's situational awareness or lead drivers to give you a less wide berth. Evidence from the Boris bikes is interesting – they are overwhelmingly ridden by inexperienced and helmetless riders, and ridden more erratically than "normal" bikes too – but casualties have been low. That is partly, I think, because drivers give them a wider berth than they would give to someone in Lycra and a helmet.
CTC, the national cycling charity here in the UK, has some information about why cycle helmets should not be mandatory, as does the London Cycling Campaign . I hope these are helpful to you.
I wish you all the best in your endeavour, and thanks again for getting in touch.
Yours sincerely
Andrew Gilligan
Cycling Commissioner for London
___________________________________________________________
09 June 2014: Cycle helmets are useless, says brain surgeon
A leading neurosurgeon has controversially claimed that cyclists who wear helmets are wasting their time.
Henry Marsh, who works at St George's Hospital in Tooting, London, said that many of his patients who have been involved in bike accidents have been wearing helmets that were 'too flimsy' to be beneficial.
___________________________________________________________________________
8 April 2014  The Prime Cyclist

On the left, the Prime Minister recently enjoyed a bike ride in Hague and on the right at the opening of a link in the national cycle trail in Wellington last year.
It is good to see Mr Key enjoying the health benefits of cycling in a country where cycling is popular and therefore safe because of safety in numbers.
However, one wonders if he realises that many New Zealanders are deprived of the same benefits because of this country's compulsory helmet law which discourages cycling and creates a climate of hazard?
Does he realise that children's cycling has declined by over 80% and the risk of cycling injuries has doubled or quadrupled since helmet laws were introduced?
Is it not time for a review of the New Zealand helmet law so that citizens can enjoy the same health and safety benefits as cyclists in other countries?
___________________________________________________________________
Chris Boardman: "Helmets not even in top 10 of things that keep cycling safe"
British Cycling policy adviser says it's time to stop distracting helmet arguments and concentrate on real safety issues
 __________________________________________________________________
3 February 2014
New Study by Auckland University  suggests that Cycling is around 35 times safer than rugby.
Mr Chieng, a medical student supervised by Professor Alistair Woodward, said that "A typical rider would be out on his or her bike for seven years before an injury, and on average would be riding for 70 years before suffering an injury sufficiently severe to be admitted to hospital."
The webmaster had his first bike at aged four in 1936, is till riding, and has never sustained an injury requiring medical treatment.  The secret is constant road awareness and cautious, defensive riding.
A member of the group added an objective comment:
"If you look at the full list of statistics even cricket is more dangerous than cycling.  Of course the home is where ACC gets most of its business and nobody suggests we shouldn't go home!  There are more people who drown in a year than fatal cycling accidents as well.  Cycling was never considered dangerous until Mrs Oaten came along and I seem to recall she even received a medal for her disastrous campaigning.
______________________________________________________________________
10 December 2013
Helmet-free trial  
Queensland to introduce a two year helmet free trial for cyclists over 16, with WA likely to follow.
_________________________________________________________________
30 November 2013
Queensland thinks the unthinkable and proposes legislation to make roads safer for cyclists, but also to makes penalties for cyclists the same as for motorists.
_______________________________________________________________________
Dr Ian Walker of the Department of Pyschology, University of Bath, in the UK, in co-operation with others recently completed research entitled: "The influence of a bicycle commuter's appearance on drivers' overtaking proximities: An on-road test of bicyclist stereotypes, high-visibility clothing and safety aids in the United Kingdom.
The team concluded, inter alia, that there is no advantage in cyclists wearing high visibility apparel, it makes no difference at all.
________________________________________________________________________
26 November 2013
Australia's Helmet Law Disaster by Luke Turner – A Member of Helmet Freedom (helmetfreedom.org) and a former investment banker.
A summary of the pros and cons of the mandatory helmet laws concluding: " After 20 years, the results are clear: the compulsory bike helmet experiment has failed. We need to amend the law to allow adults the freedom to choose if a helmet is necessary when they cycle.
Some will still choose to wear helmets at all times, and this is a totally reasonable decision. However in many situations it is perfectly safe to go without and Australia should
join the rest of the world in allowing this simple freedom."
_________________________________________________________________________
02 November  2013
Spanish Government faces criticism over proposed legislation that would make it compulsory for any under 18 years to wear a helmet when riding or being carried on a bike.
24 August 2013
10 August 2013
This from the European Cyclists' Federation reinforces the recent discussion in this country on urban speed limits.
20mph speed limits quickly becoming a reality in London
The Mayor of London's Roads Task Force has acknowledged the importance of speed limits in London and surrounding Boroughs. This spells good news for cyclists and pedestrians who wish for safer, quieter, and less congested city roads.
Simply put: Safer roads means safer cyclists. Safer cyclists means more cyclists. More cyclists means better roads. It is a cyclical process and every aspect can be promoted, as they are mutually inclusive.
One of the easiest and cheapest ways to make city roads safer for European cyclists and pedestrians is to reduce speed limits. The European Citizens' Initiative "30kmh—making streets liveable" seeks to force the European Commission to looking into the possibility of making 30 kph the default speed in urban areas. The ECF has partnered with the initiative to focus on the cycling aspects of lower speed limits. Unfortunately, success has been slow going. However, just recently the 30kmh campaign's UK partner 20's Plenty For Us gained an important supporter.
The Mayor's London Roads Task Force (RTF) recognized that "speed limits play an important role where 'movement' and 'place' need to be better balanced, where there are high levels of pedestrian activity and where safety issues have been identified" adding another success story to the ECI's objective.
This recognition of speed limits' significance in cities led the RTF to suggest that the Central Activities Zones (West End, The City, and Southbank) and central London should have 20mph limits. The RTF suggests further, that inner London Boroughs, especially residential areas and town centers should have a 20mph speed limit.  Similarly, Transport for London (TfL), the local government body that covers most aspects of London's transport system, has supported the project and will continue to fund 20mph zones and implement trial areas through 2021 in London Boroughs and more centralized locations like the Waterloo IMAX roundabout.
TfL's delivery program for the RTF has already heavily benefited 20's Plenty. In fact, 25% of London Boroughs have already agreed to 20mph limits. "London has come a long way on slower speeds this year" says 20's Plenty London coordinator Jeremy Leach.
This recent support is great news and brings a lot of awareness to the growing campaign. 20's Plenty Founder and Campaign Director Rod King MBE commented, "20 mph is the right speed limit for most urban streets. Many of our most iconic cities have already adopted this initiative and it's great to see the Task Force recommending this for London too."
Having support at city level is a great asset for the ECI and will hopefully encourage more city officials to take on the cause as well. But this is still on a local level. The ECI calls for EU wide 30kmh speed limits in cities and it needs signatures. Progressing the ECI would mean a greater chance for all EU cities to reap the benefits of lower speed limits not just on a city-by-city basis.
What are the benefits for cyclists?
For cyclists and those who want to cycle but are hesitant, reducing speed limits encourages more cycling. It does not only make the roads look safer, they actually are safer. A Norwegian study found that 10% decrease in the average speed would result in a 37.8% reduction in fatalities[i]. The city of Graz, Austria which was the first city to implement 30kmh speed limits had a 24% decrease in serious accidents after just 6 months[ii].
By making cycling and walking more enticing there is a shift in the modal share away from cars thereby placing more cyclists on the road providing greater safety in numbers. Perhaps these recent changes in London speed limits explain their current cycling boom[iii].
City roads should not be hazards dominated by buzzing cars that discourage physical activity. They should be open and safe for everyone and anyone, cars, cyclists, and pedestrians alike. By presenting the 30kmh ECI to the Commission there is a higher chance of citizens receiving added safety in cities.
Thursday 27 June 2013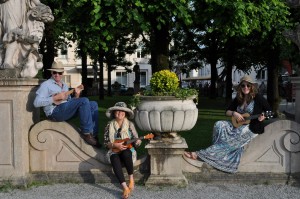 Australian anti-helmet campaigner Sue Abbott who keeps the http://freedomcyclist.blogspot.co.uk/ blog has recently been in Vienna for the Velo 2013.  At the conference she wasted no time in raising the question of cycle helmets and their effect on the cycling scene, in plenary sessions and by bailing up names in cycling circles.  What she heard bolstered her determination to keep up the pressure at home in NSW.
Velo 2014 will be held in Adelaide and Sue is already planning some civil disobedience by organising helmet free 'critical mass' rides to be held in the city at the time of the conference.
Sue, with members of her family, took advantage of her time in Europe to enjoy some helmet free bike rides and at one point warned the City of Salzburg to watch out for the Von Abbott family!  She also took many helmet free bike pictures some of which she has posted to her blog.
Most recently she has criticised of members of the Australian medical profession who, on the basis of anecdotal and observational evidence, urge the use of cycle helmets.  She also questions the slavish way in which the media uncritically publish the utterances of the doctors as the last word on the question.
Her blog is well worth a look and, if you sign up, you can receive copies of her regular posts by email.
The New Zealand Herald
Cycle helmet excuses: Claustrophobia, deafness and an abnormally large head
2:17 PM Tuesday May 7, 2013
Claustrophobia, deafness, and having an abnormally large head are among the reasons cyclists have been excused from wearing a helmet.
New Zealand Transport Agency data released under the Official Information Act shows 90 people have been granted exemptions from wearing bike helmets since 2000.
This year three exemptions have been granted, all for claustrophobia and/or headaches.
In the previous 13 years, riders have been excused from wearing a helmet for medical reasons including epilepsy, spinal damage, deafness, excessive sweating, head or face injuries, respiratory problems and asthma from the strap, and being physically unable to fasten the strap.
Riders with abnormally large heads accounted for 11 exemptions, while the most common reason, headaches and/or claustrophobia, was claimed by 36 riders.
Three riders were also granted exemption between 2000 and 2003 for a "personal desire not to wear helmet".
NZTA spokesman Andy Knackstedt said the category was a historic anomaly, and would have been issued by the former Land Transport Safety Authority.
There was no record of documentation for the exemptions, and it would not be considered a valid reason today.
Exemptions can also be claimed for religious or non-medical reasons, although only seven have been granted since 2009. NZTA said earlier records for these categories were not available.
Sikh riders are automatically exempt from wearing a helmet as long as they do not exceed 50km/h and can provide proof of their religion to an enforcement officer.
Motorcycle riders can also apply for an exemption from wearing a helmet, although in the past 13 years only 16 motorbike exemptions have been granted.
Reasons cited were: hypersensitive scalps, eczema, heat or sunburn, headaches and/or claustrophobia, deafness and stress.
Applications for exemptions need to be made with supporting documents, usually a letter from a registered medical practitioner.
__________________________________________________________________________
07/04/2013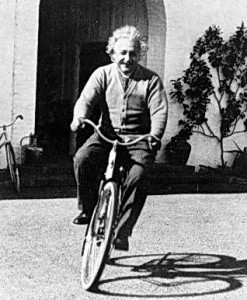 My God Albert, are you crazy?
___________________________________________________________________________
27/03/2013 Electric Bikes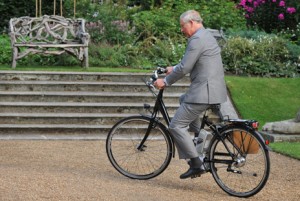 "One may not want to get sweaty pedalling up hills"
________________________________________________________________________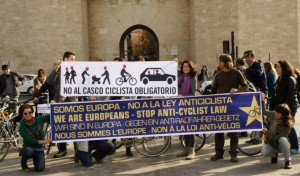 Spanish cyclists seek asylum at European embassies over helmet law
22.03.2013
Spanish bicycle advocates are demanding asylum at European embassies across Spain in protest against anti-cycling legislation and compulsory helmet laws. 
Cyclists in seven of Spain's largest cities appealed for 'cyclist asylum' yesterday at over a dozen European embassies and consulates. Representatives from the embassies and consulates of Denmark, the Netherlands, Germany, and France met the cyclists as they delivered letters requesting asylum. Cyclists carried banners saying 'We are Europeans. Stop anti-cyclist law' in Spanish, English, German and French.
The cyclists are calling for asylum after the Spanish government announced its intention to prohibit cycling without helmets and force cyclists to always ride on the right side of the lane to make way for faster motor vehicles.
Protests were held in Madrid, Barcelona, Valencia, Seville, Zaragoza, Marbella, and Palma, and were coordinated by ConBici, Spain's national cycling organisation.
Antonio Llopez from the Valencia cycling group 'Valencia en Bici' said: "Other European nations give cycling a leading role in their cities, but not Spain. The government wants Spain wants to be the only European nation that bans cycling without helmets. This will discourage millions of people from cycling – and so make roads more dangerous for the few who continue."
Further Reading
-You can read more about ECF's position on helmets here. 
-For more information about the anti-cycling legislation being proposed in Spain, read ECF's recent article. 
-Our members CTC has written a fantastic piece as well as a call for action here
According to the European Commission, no other countries within the EU have a blanket ban for all ages on cycling without a helmet.
There are an estimated 35 million Europeans that choose cycling as daily mode of transport. Spain only sees about 1.6% of people cycling as their main mode of transport, yet some cities such as Seville have made huge progress with 6% of trips done by bicycle. What's more, cycling tourism currently represents an estimated €1.5 to 2 billion every year.
These laws would be a devastating blow to a country which is finally getting more people cycling and it could be a big set-back for an already ailing economy.
Spain, do the right thing and drop this outrageous legislation.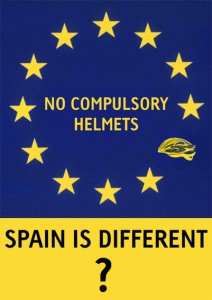 ---
21/02/2013
Low support for high-vis requirement
15 February 2013- A coroner's recommendation that all cyclists should be forced to wear high-visibility clothing has been met with widespread cynicism.
Wellington coroner Ian Smith has recommended:
High-vis clothing be made compulsory for cyclists
That drivers leave a gap of one metre from cyclists
More education for cyclists and drivers
Clearer rules around cycle lanes
The recommendations were in response to the death of road safety police boss Steve Fitzgerald at a Petone roundabout four years ago.
But the Government says it doesn't want to mandate one item of clothing.
"There are a number of things cyclists already do, wearing headlamps, other reflective bands, lights on bikes," says Associate Minister of Transport Michael Woodhouse.
The Cycling Advocates' Network (CAN) doesn't want mandatory high-vis clothing either.
"There's really no evidence that forcing people to wear high-vis all the time, on the waterfront or cycle trails, is an effective road safety improvement," says CAN spokesperson Patrick Morgan.
Read more here:
http://www.3news.co.nz/Low-support-for-high-vis-requirement/tabid/423/articleID/286941/Default.aspx
The Christchurch Star
02 December 2012
(http://www.christchurchstar.co.nz/news/fines-costly-cyclists/1642417/#.ULppb)
More than 6700 tickets have been issued to Canterbury cyclists for not wearing helmets in the past decade.Nationally, police have issued more than 85,000 tickets to cyclists for not wearing helmets in the past 10 years.  Fourteen cyclists have died on NZ roads and 332 have suffered serious injuries since January last year, NZ Transport Agency figures show.  Two of the dead cyclists were not wearing helmets.  Bicycle helmets were made mandatory in January 1994.  Non-compliance can result in a $55 infringement fee or maximum $1000 fine on summary conviction.  Cycling Advocates Network spokesman Patrick Morgan said the organisation wanted the helmet law reviewed.  However, cycle lanes and vehicle speed reduction were more important priorities, he said. A 2011 Ministry of Transport survey found 93 per cent of cyclists wore helmets.  The ministry advises that helmets reduce the risk of brain injury by up to 88 per cent.
Comment:  The so called "88%" reduction was obtained by comparing a group of middle class kids with health insurance who fell off their bikes (often in parks and other places with very little traffic), with kids who were injured badly enough in street crashes to need medical treatment – http://cyclehelmets.org/1131.html
The same statistical technique used to show helmets prevent 88% of head injuries applied to other injuries would imply that helmets prevent 72% of non-head injuries, and that helmet wearers are 7 times as likely to fall off their bikes as non-wearers, but have the same risk of head injury.
In these cases, the obvious thing is to point out the stupidity of the claim – it's simply not possible for helmets to prevent a significant number of brain injuries because head injuries per cyclist increased after NZ's law was introduced – http://journal.nzma.org.nz/journal/
Indeed, there's not a single instance of a helmet law in Australia or NZ that appears to be effective http://cyclehelmets.org/1241.html
Should it be compulsory for adult cyclists to wear helmets?
27 Jul, 2011 | by BMJ Group
Last week the bmj.com (British Medical Journal) poll asked: "Should it be compulsory for adult cyclists to wear helmets?" 68% of respondents voted no, out of a total 1,439 votes cast. The question triggered an interesting debate. See a selection of the comments posted in response to the poll.
---
February 2010
Israel Sees the Light
ARUTZ SHEVA Israeli National News Com
Reported: 21:28 PM – Feb/09/10
Law Would Exempt Adults from Wearing Bike Helmets
The Knesset has passed on its first reading a bill that would exempt individuals over 18 years of age from having to wear a helmet while riding a bicycle in urban areas. MK Shelly Yechimovich, one of the sponsors of the bill, said that the current requirement that riders wear a helmet was frightening off many Israelis from commuting to and from work by bicycle, resulting in more people driving – and more traffic, pollution, and accidents.
---
August 2009
Otago Daily Times (www.odt.co.nz) 27/08/2009
Helmet standards questioned
Whether they cost $219 or $59, cycle helmets in New Zealand are required to meet only a single standard. Southern Region Coroner David Crerar is questioning the way standards are set for New Zealand cycling helmets. Mr Crerar told an inquest into the death of cyclist David Edward John Hall (29) that a single standard for all cycling helmets "is possibly inappropriate".
In a police crash investigation report to the hearing, Senior Constable Alastair Crosland noted that cycling helmets were only designed to protect riders from low-speed, minor impacts and were tested in 1.4m drops that achieved about 16.2kmh.
Mr Crerar said cycling helmets provided a minimum of protection and he suggested that while a school child on a quiet street might need a helmet offering less protection, someone travelling at speed might require a helmet of a higher standard. He planned to ask Standards New Zealand to consider having varying standards for cycling helmets.
Mr Crerar found Mr Hall died from severe head injuries received when he fell off his bicycle in Barr St, Mornington, on March 17, 2009.
Karyn Elaine Costello-Hall gave evidence that her husband, an IT professional, had lost 40kg through a weight-loss programme of diet and exercise. To maintain his fitness, he had begun cycling between his home in Green Island and his job in Dunedin. "David was a bit of a speeder, in his car and on his bicycle. "He told me that he really liked speeding down Stuart St and liked passing cars." She believed it was the first time he had cycled down Barr St.
Senior Constable John Patrick Woodhouse told the inquest Barr St was steep, with a curve. "David has drifted left and off the road as he exited the right-hand bend. "He appears to have dropped his bicycle before crashing into the gutter and a lamppost and then into the rear of Andrew Moore's vehicle."
Mr Moore, of Mosgiel, gave evidence that he was sitting in his parked Mitsubishi truck, in Barr St, waiting for his music lesson. In his mirror, he saw a cyclist approaching. "He was about 40m away and he appeared to be completely out of control. "He was travelling very fast for a cyclist. He had his left leg down on the road and was wobbling all over the place." Mr Moore lost sight of the cyclist and then felt "an almighty bang" at the back of his truck. He found the cyclist in the gutter and called an ambulance while others, including a registered nurse, tried to resuscitate Mr Hall. Mr Crerar attributed no blame to Mr Moore.
The crash report considered Mr Hall – who was wearing an approved helmet – was travelling about 50kmh when he fell. He then slid, head first, into the kerb.
Mr Crerar did not consider a "number of defects" with the bicycle would have caused the loss of control. He noted the front wheel was on backwards and he urged cyclists to ensure their bicycles were well adjusted and maintained.
---
June 2009
Mandatory bicycle helmet laws could do more harm than good, a new study claims.
---
CAN (Cycling Advocates Network) SPEAKS OUT…
PRESS RELEASE FOR IMMEDIATE RELEASE
The Minister of Transport Safety, the Hon. Harry Duynhoven, yesterday questioned NZ's compulsory helmet wearing legislation. The Minister was addressing a transport forum and questioned whether the compulsory helmet wearing legislation was working against government's aim of increasing the number of cyclists.
The Cycling Advocates Network (CAN) supports the Minister's stance.
CAN co-chairperson Axel Wilke says, "CAN has been calling for an objective review of the law for a number of years. To date, central government transport authorities have yet to provide research analysing the effect of the law".
"The merits of wearing a cycle helmet have not been conclusively proven either way in research worldwide. While we fully support anyone choosing voluntarily to wear a helmet, we are concerned about the wider effects the mandatory law has had," says Wilke.
"If the Government is keen to promote cycling for its health, safety, economic and environmental benefits, then a law that results in a 20% – 25% reduction in the number of cyclists would not appear to be the right way to go about it. Instead it sends a message that cycling is inherently dangerous, which it isn't."
CAN would prefer that the considerable money spent on helmet enforcement and
promotion was spent on programmes with more tangible cycling safety
benefits, such as driver/cyclist training, better cycle facilities and most importantly, speed reduction in urban areas.
Ministry of Transport accident data has shown that 1 in 1,000 cycles are involved in injury accidents compared to 3 in 1,000 cars.
CONTACT: Axel Wilke
Co-Chairperson
Email: [email protected]  Mobile: 027-292-9810  Phone: 03 366 9493 (after hours)
20 September 2008
Elle Macpherson deserves a medal for defying the health and safety gods
Simon Jenkins, The Guardian, Friday Serptember 19 2008
The press are idiots to condemn the model for cycling without a helmet. The real villains are over-active traffic managers
The model Elle Macpherson was this week pilloried by the tabloids for bicycling in a London street without a helmet and with her (helmeted) son on her handlebars. "Elle on wheels," cried the Mail. "What the Elle are you doing?" screamed the Mirror with an editorial titled "Elle to pay". Even the Times demanded a response to her behaviour from the gods of health and safety. The answer from the Royal Society for the Prevention of Accidents was a predictable howl: "Illegal and dangerous!"
The truth is the opposite. Macpherson was probably the safest cyclist in London that day. Like the mayor, Boris Johnson, she is signed up (I guess by instinct) to the Wilde-Adams theory of compensatory risk assessment. By not wearing a helmet, she lowers her risk threshold and thus rides more carefully. She commendably cycles rather than drives a car and protects her child, who cannot manage his own risk. The society should give her a medal, not insult her. The press were idiots.
By chance, this week sees the publication of another tome in the mountain of evidence that Britain's safety culture is making us increasingly unsafe. Tom Vanderbilt's Traffic collates a mass of evidence about how we drive cars and use roads. It demonstrates the extent of mendacious brain-washing inflicted on the public by health-and-safety lawyers, bureaucrats and sellers of expensive equipment.
Vanderbilt, like Gerald Wilde, Hans Monderman and John Adams before him, rests his case on the thesis that stripping people of responsibility for safety makes them take more risks, not fewer. Traffic safety is concerned not with dehumanised automatons but with people, and is a balance between authority and personal freedom.
Adams's "theory of risk compensation" states that people push their behaviour to a given level of danger. If they are made to feel safer – through driving a big car, wearing a harness or riding a motorbike in a helmet – they shift their risk threshold to a higher level of danger. The old experiment still works: increase your speed to 80mph, undo your seat belt and see what you do next. You brake. Likewise mobile phone users instinctively slow to a crawl, dangerous but less so than driving at 80mph.
The accumulation of statistics is overwhelming. Helmets, like seat belts, somehow do not seem to reduce accidents. Last year Norway's centre for transport research, in rejecting compulsory helmets, noted the "increased risk per cycling kilometre for cyclists wearing helmets, in Australia and New Zealand at around 14%". It also noted a consequent reduction in cycling use of 22%.
A British study showed that motorists instinctively give cyclists without a helmet a wider berth. Drivers are no more stupid than riders. Eye contact makes driving more intelligent, which is why convertibles reportedly have fewer accidents. For every cyclist who claims "my helmet saved my life", there are two for whom wearing a helmet led them to risk it.
The world's most celebrated cycling country, the Netherlands, has just 1% helmet use and has the safest cycling record anywhere. It has one third the cycling death rate of Western Australia, which has the most draconian law. The Dutch Cycling Council declares that helmets "increase cycling speeds and encourage riskier cycling behaviour …They also reduce the care motorists give to cyclists". The dispatch rider careering through a red light may think his helmet makes him safer than the unguarded old lady on a sit-up-and-beg style bicycle, but he is wrong.
Ever since the government suppressed the 1981 Isles report for suggesting that compulsory seats belts might cost lives by encouraging speeding, the psychology of road use has been treated as anathema. The idea that signs, lights, cameras and "controlled" pedestrian crossings might distract driving vision and decrease safety is intolerable to those who love regimenting others. A mother nosing her way on a bike through the traffic must be more dangerous than if she were careering at twice the speed in an armoured buggy – whatever the facts may say.
Traffic engineers regard cars as crazed robots to be freed from human frailty. Theirs is a Fritz Lang metropolis in which tiny pods move silently through three dimensions and people are ants. They have cocooned us in super-safe cars that we drive too fast. They think they are reducing congestion with parking restrictions, lanes, roundabouts and gyratories, but cancel any such benefit by making journeys twice as long as they need be with one-way streets and traffic lights. The latter waste road space, increase travel time and burn millions of tonnes of unnecessary carbon.
Traffic management must be the most uneconomic, anti-human and carbon-guzzling regulation on earth. Pedestrians are corralled and confined by fences. Streets are polluted by forests of signs, preventing drivers from their prime task of watching and showing consideration to other road users. We put up with this nonsense in the naive belief that it must be doing us good. It is not.
Vanderbilt is a follower of the "shared space movement" pioneered by the Dutch engineer, Monderman, whose work is now near standard across mainland Europe. There are 4,000 "naked street" schemes in Germany alone, where lights and restrictions are minimal and pedestrians, cyclists and cars tolerate each other at all but the most difficult crossings.
Rather than accelerating and braking down a regulated street, cars tend to move at under 20mph, informally policed by pavement design and the uncertainty of sharing space with pedestrians and cyclists. That eyes are the best traffic policemen was a Monderman maxim. In shared space, accidents fall and journey times actually improve, often by extraordinary amounts.
At Monderman's much-publicised Drachten intersection in the Netherlands, where fountains replace posts, fences, lights and kerbstones, the chief menace is said to be visiting traffic engineers repeating the master's trick of walking blindfold and backwards through the streaming traffic, which somehow gives way but never stops. Naked streets have even proved safer for the disabled.
The one English example is the "half-naked" Kensington high street. Cleared of barriers and safety clutter, its accident rate has fallen by 44% in two years. Only in Britain would such a boon be "experimental", fought tooth and nail by safety engineers in league with contractors and, I must assume, undertakers. There is hardly a street in Britain not being upheaved for some pedestrian segregation scheme, each aimed at reducing personal risk and thus increasing the chance of an accident.
All vehicles are people in disguise, negotiating the use of common space with each other. They must never be induced to delegate that obligation to signs and machines. They certainly must not think themselves safer than others, or they will behave with less consideration for others as a result.
Most people with whom I discuss these ideas look at me with blank amazement. It just cannot be true. The control of "the driving experience" must surely make it safer and not more dangerous. If the facts suggest otherwise, they must be wrong. Control always has the best tunes.
Galileo had the same trouble with the Inquisition. I say give Elle Macpherson a Galileo medal.
[email protected]
Fines wiped if biker buys 'dorky' helmet
Dominion Post 01 December 2007
A Napier man with 11 unpaid fines for refusing to wear a bike helmet has been told some will be swapped for community work if he buys a helmet and brings it to court.
The problem is Shane Boyce, 21, has sold his bike – but reckons he will buy a cheap helmet anyway, to save a bit of money.
He has refused to wear one because he says "they look dorky".
Getting fined $185 for not wearing a bike helmet would persuade most people to start wearing one.
But 11 fines later – the first in 2002 and the most recent in July – he still does not have a helmet.
Nor has he paid a cent of the fines.
He was arrested on Thursday for having outstanding fines of $4320 – of which $2035 were for not wearing his helmet.
The others were for various driving offences and disorderly behaviour.
Boyce appeared before a bewildered Judge Bridget Mackintosh in Napier District Court yesterday.
"Mr Boyce, why would you not wear a cycle helmet?
"Do you have a problem with that?" she asked, failing to elicit a response.
"I tell you what, you'd have a big problem if you were involved in an accident without a helmet. You know that?"
"Um, yeah," Boyce responded.
"This is ridiculous," said the judge, ordering him to buy a helmet and bring it back to the court in two weeks.
She said if he showed her the helmet on that day she would remit some of the fines in return for a sentence of community work.
Talking to The Dominion Post later, Boyce said he had sold his bike not long after his last offence and now walked.
He said he was happy to do community work rather than pay the fine money and he planned to buy a cheap helmet before going to court next time.
"I'll never use it, but it'll save me heaps."
---
Wearing helmets 'more dangerous'
BBC NEWS: http://news.bbc.co.uk/go/pr/fr/-/2/hi/uk_news/england/somerset/5334208.stm
Published: 11 September 2006
Dr Ian Walker
Cyclists who wear protective helmets are more likely to be knocked down by passing vehicles, new research from Bath University suggests.
The study found drivers tend to pass closer when overtaking cyclists wearing helmets than those who are bare-headed.
Dr Ian Walker was struck by a bus and a lorry during the experiment. He was wearing a helmet both times.
But the Royal Society for the Prevention of Accidents said tests have shown helmets protect against injuries.
To carry out the research, Dr Walker used a bike fitted with a computer and an ultrasonic distance sensor to find drivers were twice as likely to get close to the bicycle, at an average of 8.5cm, when he wore a helmet.
The experiment, which recorded 2,500 overtaking motorists in Salisbury and Bristol, was funded by the Engineering and Physical Sciences Research Council.
Dr Walker, a traffic psychologist from the University's Department of Psychology, said: "This study shows that when drivers overtake a cyclist, the margin for error they leave is affected by the cyclist's appearance.
This study suggests wearing a helmet might make a collision more likely
Dr Ian Walker
"By leaving the cyclist less room, drivers reduce the safety margin that cyclists need to deal with obstacles in the road, such as drain covers and potholes, as well as the margin for error in their own judgements.
"We know helmets are useful in low-speed falls, and so definitely good for children, but whether they offer any real protection to somebody struck by a car is very controversial.
"Either way, this study suggests wearing a helmet might make a collision more likely in the first place," he added.
Dr Walker thinks the reason drivers give less room to cyclists wearing helmets is because they see them as "Lycra-clad street warriors" and believe they are more predictable than those without.
He suggests different types of road users need to understand each other.
"Most adult cyclists know what it is like to drive a car, but relatively few motorists ride bicycles in traffic, and so don't know the issues cyclists face.
"There should definitely be more information on the needs of other road users when people learn to drive and practical experience would be even better."
Wig wearing
To test another theory, Dr Walker donned a long wig to see whether there was any difference in passing distance when drivers thought they were overtaking what appeared to be a female cyclist.
While wearing the wig, drivers gave him an average of 14cm more space when passing.
In future research, Dr Walker hopes to discover whether this was because female riders are seen as less predictable than male riders or because women are not seen riding bicycles as often as men on the UK's roads.
However, a spokesman for the Royal Society for the Prevention of Accidents insisted: "We wouldn't recommend that people stop wearing helmets because of this research. Helmets have been shown to reduce the likelihood of head and brain injuries in a crash.
"[The research] highlights a gain in vulnerability of cyclists on our roads and drivers of all types need to take more care when around them."
---
'Ridiculous' helmet law under fire
Sunday Star-Times, 19 January 2003
by Matthew Lowe
A cyclist prepared to go to jail rather than pay a $55 police fine for failing to wear a cycle helmet has formed a pressure group to fight the law.
Graeme Trass has put together a group with the help of an emergency ward doctor and they plan to lobby the goverment to scrap the law forcing cyclists to wear helmets.
The move has outraged safety campaigners and transport officials who have described the organisation as "the lunatic fringe".
Trass was stopped by police last month for riding through Taupo without protective headgear.
He has vowed not to pay the fine and as part of the Cycle Helth (Helmet Law Truth and Honesty) campaign, which has been set up with Wellington doctor Dan Keown, plans to write to Transport Minister Paul Swain about the issue.
"There's quite a few disgruntled people out there who are anti the helmet law and our aim is to get the law removed.
"I have been issued with a ticket and will be defending myself in court if necessary. I won't pay a fine and if a court feels I have done something wrong, they will have to look at alternative sentencing.
"If people want to wear them, then fine, but the reality is helmets do not do a lot except stop a few scratches if you fall off at low speed," said Trass.
The group has drafted letters of protest to Swain but a spokesman for the minister said there was unlikely to be a change in legislation.
"There are no plans to repeal the law and Land Transport Safety Authority (LTSA) research has shown a big reduction in head injuries resulting in hospitalisation since the compulsory helmet law in 1994."
LTSA research shows at least 21 of the 79 cyclists killed in the last six years were not wearing helmets.
Rebecca Oaten, from Palmerston North, lobbied the government to introduce the legislation after her 29-year-old son Aaron was permanently brain damaged in a cycle accident 17 years ago.
She said it was appalling a doctor was backing a campaign she believed could lead to serious injury or death.
"I would challenge anyone opposing the law to spend a few days with Aaron and see if they are still happy to ride around without helmets. I imagine they could not put one on quickly enough if they did."
Keown said helmets prevented only scalp lacerations and claimed there was no evidence they could stop accident victims going into a coma or dying.
"If I cycle around without a helmet, it's my choice and I'm not doing anyone any harm. The fact riding a bicycle can be considered a criminal activity is ridiculous."
LTSA spokesman Andy Knackstedt said helmets were considered a "very important tool" for preventing injuries.
"When you come off your bike, the only thing between your head and the road or car windscreen is your helmet."
source: Sunday Star Times (article no longer available)
Government Kills Cyclists
Media Release 14 November 2000
This Wednesday "cyclist and defendant" Gregor Campbell is returning yet again to the Dunedin District Court to defend his talent of failing to wear a cyclists crash helmet. Mr Campbell is strongly skeptical of the recent television advertisement campaign showing an accident victim dying because he neglected to use his seat-belt.
Mr Campbell today stated "Since the introduction of compulsory seat-belt laws death and injury to all road users due to head injury has been roughly 60%. There is not a single argument in favour of compulsory cycle helmet laws that can not be extended to prevent roughly 300 deaths and 3600 serious injuries a year to motor vehicle drivers.
"In fact it has been estimated that the cost-benefit of compulsory helmet laws in all vehicles would be 17 times that of cyclists alone. Why has this not been seriously proposed?
"Neither has there been a cent spent on educating motor vehicle drivers on cycle safety, as promised by Maurice Williamson [former Minister of Transport] to be complimentary with compulsory helmet laws.
"The "good news" that head injuries have been reduced 20% since the introduction of helmet laws is really an admission of failure. If all injuries to cyclists were head injuries I might be 20% impressed, but there has been no reduction of other injuries to cyclists caused by motor vehicles. I am not 1% impressed.
"Nothing is being done to prevent accidents to cyclists and they are still being killed. Nothing has changed. Those who enforce this dangerous law from the comfort of their patrol cars cannot be part of the solution to cycle safety, merely part of the problem.?
Mr Campbell has recently changed his official occupation to "Subject of Police Harassment" to reflect his opinion of official response to the wider problem of cycle safety.
---