The science fiction and superhero film, Turbo Kid, was released in 2015. It is only now beginning to be recognised as being a highly entertaining cult gem. The most recent praise was given by the film critics of Red Letter Media.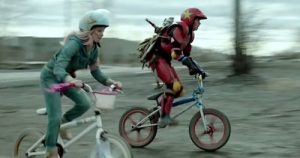 Turbo Kid is set in an alternate future, where the world has become a wasteland, after a war between humans and robots. The story focuses on one young man named Turbo Kid, as he tries to survive out on his own. He uses a bicycle to get around this barren landscape.
Bicycles and the act of cycling feature heavily throughout the film. It is a significant part of the storyline and the world in which the characters inhabit. It is set in the future where no cars exist. Therefore, the only way for both the heroes and villains to get around is by cycling.
At one point, the main character is chased by dangerous bandits, while on a bicycle. There are several other action sequences which feature the act of cycling. During the movie, the main character acquires a laser wrist gun. He uses this to dispatch many adversaries who are riding bicycles.
Later on in the film, he meets a new friend, and love interest, in a quirky girl called Apple. They both bond by cycling together. A montage of them enjoying this activity is used to help them develop a deep relationship with each other.
The film establishes how vital cycling is from the very beginning. In the opening sequence, Turbo Kid is shown to be riding up ramps to gain air on a BMX. It harks back nostalgically to the sports films of the 1980s, that often relished in characters performing stunts. Turbo Kid even has freeze frame moments during these scenes to imitate earlier movies.